I have some stuff to post later, but I wanted to go ahead and post this while I was thinking about it. You all know how I'm trying to save more money this year right? Well one of the blogs that I started reading has some really great information, tips, etc., for using coupons and being thrifty. It's called
JANE4girls
. You should check it out, she's amazing with the coupons!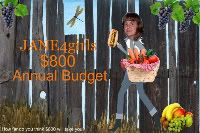 She also has a giveaway going on right now for a set of reusable bags, called
hotSACKS
, that would be great for grocery shopping. Go ahead and take a look at her site, and
enter the giveaway
.